HELNES
Collaboration with Emma Gunnarsson
Artist book, photopolymer prints, graphic scores, wooden boxes, stones, headphones and sound
Commissioned by nyMusikks Komponistgruppe
2022

Installation photos:
HELNES by Tine Surel Lange and Emma Gunnarsson
Furthest out to sea, on Magerøya in the far north of Finnmark in Nordkapp municipality, overlooking the Barents Sea, is Helnes lighthouse. To get there, you have to walk over 12 kilometers through a harsh, weather-hardened and moon-like landscape, where you follow a long series of weathered telephone poles from the 1920s - which have survived both the surroundings and the burning of Finnmark in 1944. The path goes for hours through desolate landscapes, occasionally marsh, razor-sharp rocks and half-broken porcelain insulators before finally, almost magically, you see the sea and later the white lighthouse on the horizon.
Tine Surel Lange and Emma Gunnarsson have chosen to focus on the terrain they've walked through towards Helnes from Honningsvåg. After a joint research trip to Helnes, they followed the old telegraph poles which used to be important for communication, and collected stones and remains of porcelain insulators – all of which could have exciting sonic qualities to further develop into graphic scores. Gunnarsson wanted to give life to Surel Lange's stones by photopolymer technique, and three of these prints have been given a further dimension in the form of graphic scores drawn onto them, which have in turn been interpreted sonically using the original stones with three binaural headphone works as a result.
Part of the group exhibition Territories initiated by nyMusikks Komponistgruppe.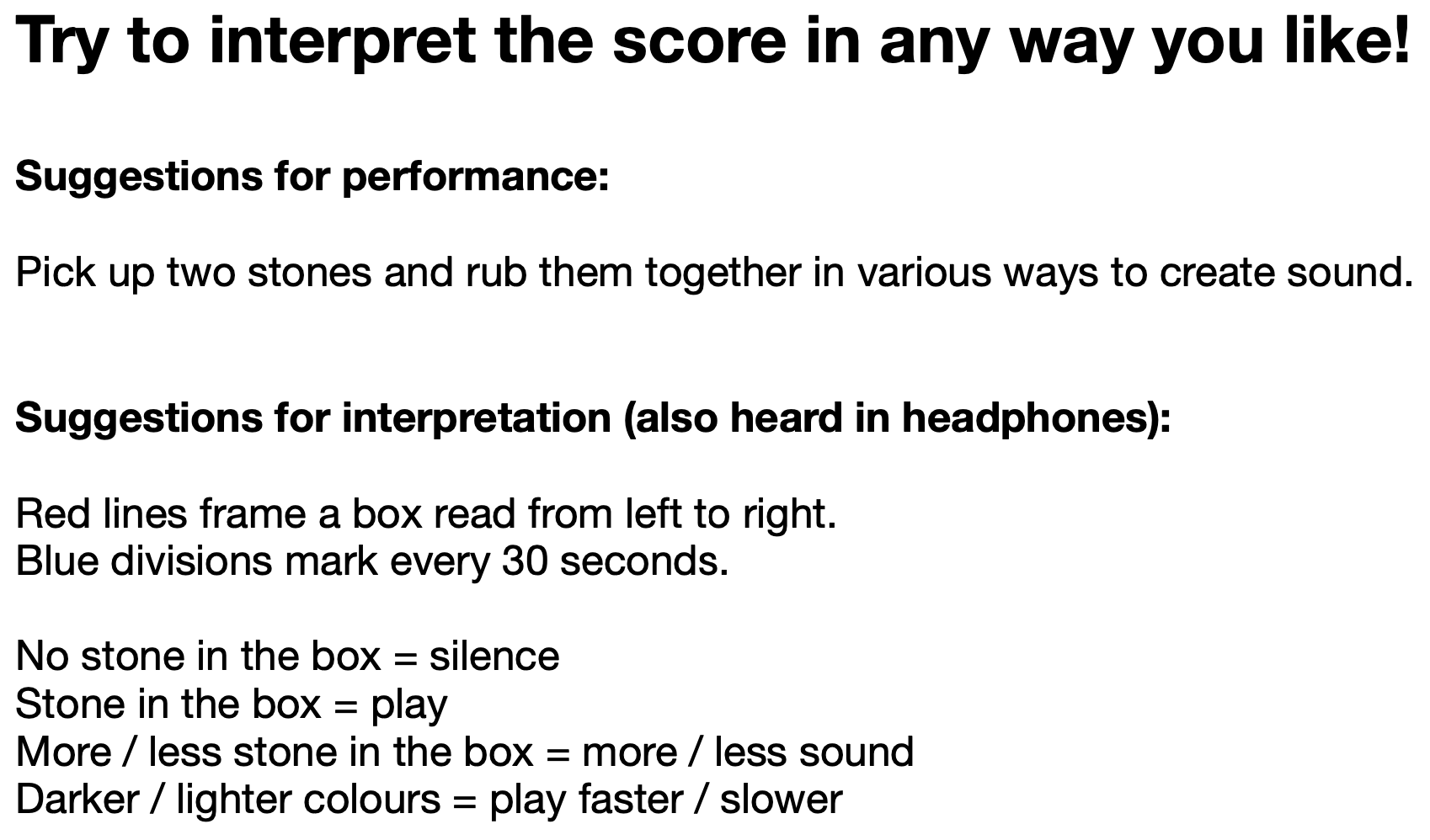 Concept: Tine Surel Lange &
Emma Gunnarsson
Commissioned by: nyMusikks Komponistgruppe
Part of the "Territories" project with project leaders: Anna Aardalen and Ulf A. S. Holbrook
Supported by:
Arts Council Norway
Photos, photopolymer prints and artist books:
Emma Gunnarsson
Sound composition, graphic scores and recording: Tine Surel Lange
Mastering: Michal Sykora
Premiere at
Lydgalleriet
2022, Bergen, Norway
Photo: Lydgalleriet, Kobie Nel
© 2022 Tine Surel Lange