RITUAL FOR CHANGING TIMES: SPRING EQUINOX
For violin, viola and video
Created for Ritual Gatherings / Pikene på Broen
Commissioned by Marco Fusi
20 min
2022

Photos from live performance by Bozhidar Benev and Ivaylo Angelov at Ritual Gatherings: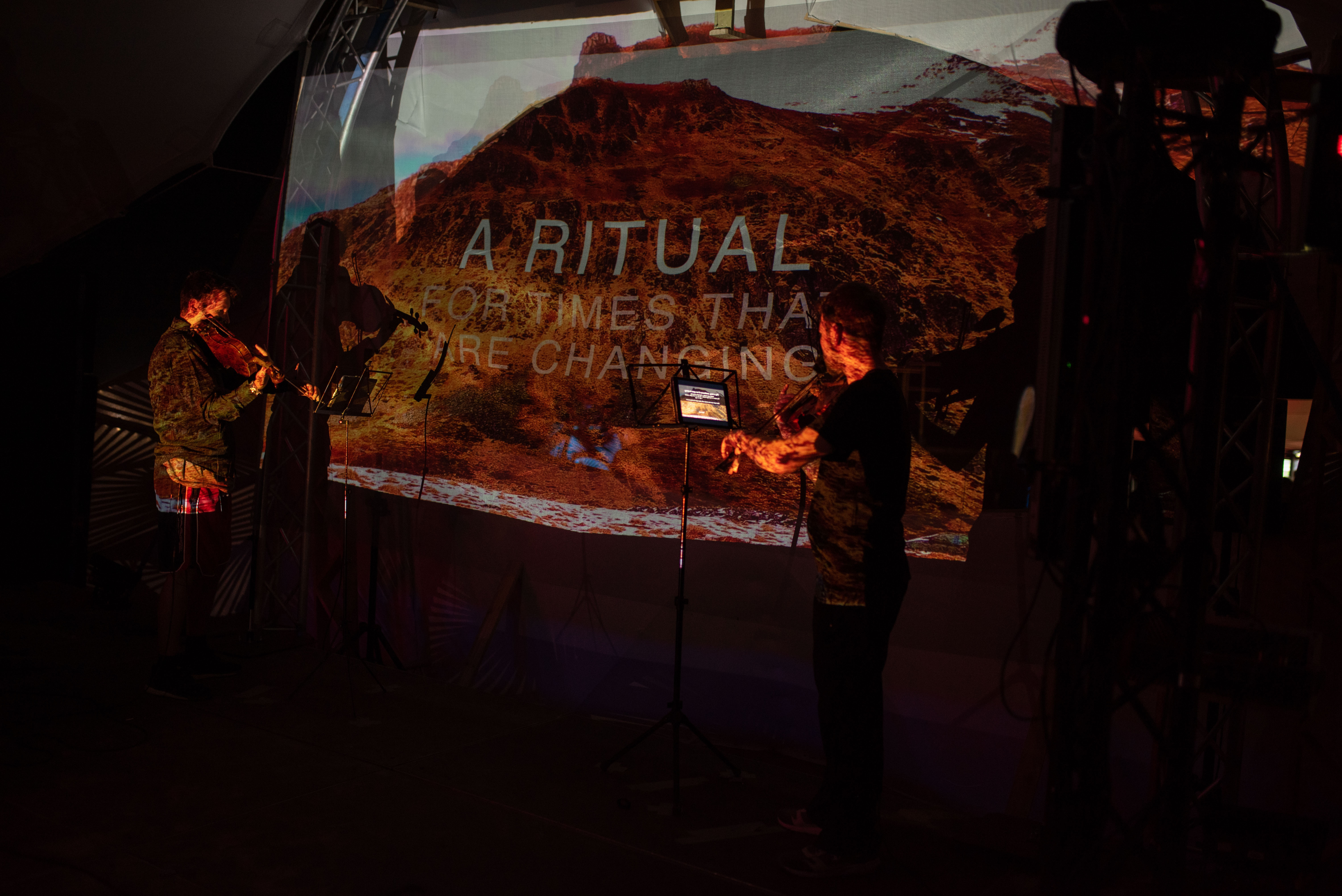 Excerpt:
A ritual for times that are changing // A ritual for changing the times
In 2020 I created the piece "Ritual for Changing Times - Midnight Sun", with video material of a ritual I performed under the shine of the midnight sun in the Lofoten Archipelago in the Arctic of Northern Norway. Maybe it worked because some things have changed for the better, but as new things are happening, I feel the need to create a new piece, with even stronger elements. Filmed during the spring equinox in 2021, on the 2000-year-old burial site of a young girl - with a grave so grandiose that people have speculated she might have had goddess status at the time.
A concert performance ritual for times that are changing, and for potentially changing the times. It is my hope, that we - the human race - at some point will turn the course, regain our humility towards our surroundings, and move towards better times.
This piece is part of my ongoing work with sound choreography, where visual material and/or movements are interpreted sonically. In "Ritual for Changing Times - Spring" the performers have specific instructions on what and how to play, all connected to cues in the video projection visible to both the performers and the audience.
Concept, video, and composition: Tine Surel Lange
Created for:
Ritual Gatherings
/
Pikene på Broen
Commissioned by:
Marco Fusi
World premiere performed by: Bozhidar Benev (violin) and Ivaylo Angelov (Viola)
Sound in video recorded with and by:
Marco Fusi
Sound in video mixed by:
Michal Sykora
Funded by:
Fond for lyd og bilde
and
Norsk Komponistforening
Dancer in video: Elisabeth Færøy Lund
Premiere July 1st 2022,
Ritual Gatherings
, Kamchia, Bulgaria
Photo: Victoria Rayu
© 2022 Tine Surel Lange